Flag of the Texas Navy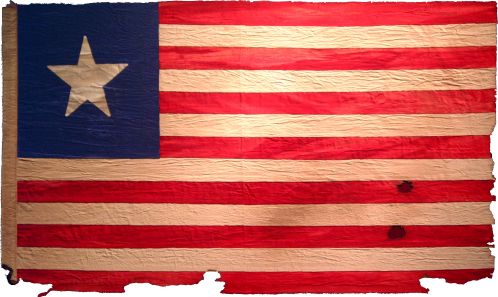 If the Mexicans had controlled the Gulf of Mexico and completely blockaded the Texas coast, it is very unlikely that the move for independence would have been successful. Even before independence was officially declared, several ships were at sea, authorized by the General Council of Texas that preceded the First Congress of the Republic. In November of 1835 the General Council formed the Texas Navy, purchasing the first ships: the Independence, Brutus, Liberty and Invincible. Evidently these ships flew both the flag of the 1824 Constitution and a new design created by Charles Hawkins, who was later appointed as the first Senior Captain and as Commodore of the Texas Navy. Hawkins' design was approved by President Burnet in April of 1836 and ratified by the First Congress of the Republic that December. In addition to protecting the Texas coast, the navy also seized Mexican ships and sent their cargoes to the aid of the Texas volunteers.
Open hostilities at sea continued intermittently throughout the years of the republic and, in 1839, the Texans commissioned six fine new ships. With the new fleet the Texans were able to put pressure on the Mexican government by sinking and capturing their vessels, attacking the coast and stopping foreign ships headed for Mexico. The Texas flag was raised briefly over Cozumel and three Texan ships sailed 70 miles up the Tabasco River to San Juan Bautista, where the astounded citizens paid $25,000 to prevent the destruction of the city. The Texas Navy's victory in 1843 over superior Mexican forces at Campeche is distinguished as the only time sailing ships defeated steam-powered craft in a major sea battle.