The San Jacinto Flag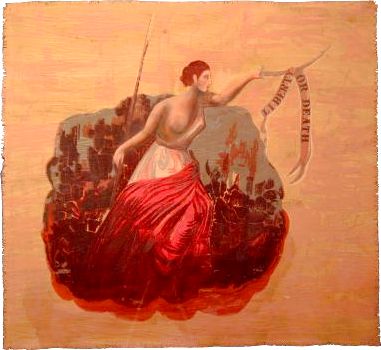 After his victory at the Alamo, Santa Anna marched across Texas, intent on driving all of the American settlers over the Sabine River and into Louisiana. His army exceeded 6,000 men and was divided into 3 columns approximately 50 miles apart.
He arrived at Harrisburg on April 15th, and headed for Lynch's Ferry, which had been a gathering point for Texas settlers retreating from the Mexican army. One Texas woman recalled that 5,000 civilians were there when she arrived with her family 10 days before the battle. Santa Anna led his men north onto a narrow peninsula surrounded by San Jacinto Bay and Buffalo Bayou and the Texas army rushed to the opportunity. On the 19th the Texans crossed the bayou on rafts and marched nearly all night, and at dawn the next day they were on the edge of the grassy plains on San Jacinto. Santa Anna was impetuous and held the Texans in utter contempt; he was confident that Sam Houston and the main Texas army was still somewhere near the Brazos River, far to the northwest. At 2 in the afternoon on the 21st of April the Texans formed their battle lines on the edge of the woods, out of sight of the Mexican camp. The only flag flown by the Texans at this battle was one presented to a volunteer company from Newport, Kentucky. At 4 o'clock the Texans began to advance and their artillery fired at point-blank range. That, along with the cries of "Remember the Alamo" and "Remember Goliad," was the first warning the Mexicans had as the Texans charged into their camp. Santa Anna immediately fled, apparently to join the remainder of his army camped near the village of Fort Bend.
The attack was so sudden that the battle was over in less than 20 minutes. Of the original Mexican force of approximately 2500 men, 630 were killed, 208 were wounded and 730 captured. Only 743 Texans were in the battle; 6 were killed and another 25 wounded, including Sam Houston, whose ankle was shattered by a Mexican rifle shot.
The day after the battle Texans searching for Mexican escapees captured a man hiding in the tall grass. Although dressed in a private's uniform, he wore a fine linen shirt with studs. The scouting party returned to camp and, as they passed groups of Mexican prisoners, the Texans overheard the exclamations of "El Presidente" and "General Santa Anna!" The prisoner then revealed for the first time his true identity and formally surrendered to Sam Houston. After hours of discussion, Santa Anna sent an order to General Filisola, second in command, to retreat with the entire Mexican army to Victoria and San Antonio. The war was over, and by early June the entire Mexican army had crossed the Rio Grande into Mexico.