Third Flag of the Republic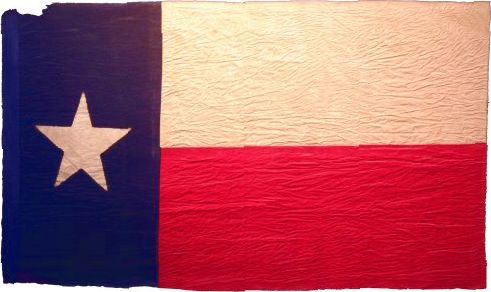 A month after Santa Anna was defeated, the Mexican government repudiated the treaties he had signed and refused to recognize the independent sovereignty of Texas. Their threats of an invasion made a strong defense a continuing concern for the Texas army. On one foray in the spring of 1842, San Antonio and Victoria were taken and held for several days by Mexican forces.
Even so, the new republic flourished and, in keeping with the rising prominence of Texas, a more distinctive national flag was sought. Meeting in the village of Houston in 1839, the Third Congress of the Republic of Texas approved a new design by Charles Stewart, the second man to sign the Declaration of Independence.
The strong growth continued; France officially recognized Texas in February of 1840 and opened a legation in Austin; England followed in 1842. However, annexation by the United States was still an important issue. It was hotly debated in several countries, including Texas, and was the deciding issue in the American presidential election of 1844. The vast majority of Texans, being Americans by birth, were in favor of the plan and the issue was settled the next year. On December 29th, Texas was admitted to the United States and the flag of the Republic of Texas became the state flag. Three months later the United States declared war on Mexico.