Captain Scott's Flag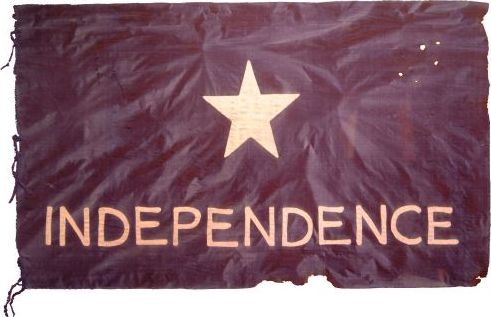 Most Texas settlers expected to remain as a part of Mexico as long as their rights were preserved and the central government left them alone. That sentiment was not shared by some leaders and a variety of small groups - considered radicals at the time - who wanted complete and immediate independence from Mexico and were ready and willing to fight for it. Unlike the organized Mexican army, the Texas forces were formed from a number of such small groups, and Sam Houston and Stephen F. Austin were often preoccupied with keeping these diverse factions from starting a war with Mexico before preparations could be made. One of the radical groups was formed in Lynchburg, Texas by William Scott who offered his recruits a bonus when they joined with a saddle, bridle, gun, a suit of clothes and provisions; quite an incentive on the rough frontier. To create a flag for his company of volunteers, Captain Scott commissioned an Italian immigrant to paint the chosen design on a piece of blue silk. The company of 30 men reported to San Felipe, the capital of Austin's colony, and were sent to join Colonel James Fannin's men.
By the end of 1835, sentiment in Texas for a complete break with Mexico was overwhelming. In November the Mexican navy began regular attacks on the ships sailing to and from Texas and word was received that Santa Anna was forming an army of thousands to invade Texas. Public meetings were held in Nacogdoches, Goliad and Brazoria and at each a resolution was adopted calling for complete independence from Mexico. On December 10th the Council of the Provisional Government called for an election on the first of February throughout Texas to select delegates who would meet a month later, declaring independence and forming the new government of the Republic of Texas.