Second Flag of the Republic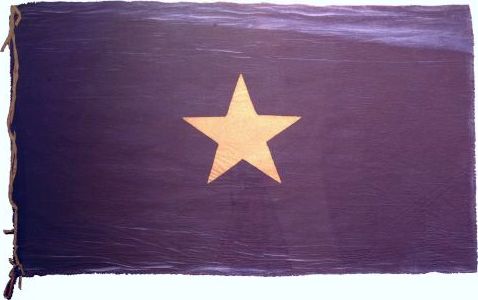 In December of 1836 the new government of Texas met at Columbia and the First Congress accepted the suggestion of David Burnet, first president of the Republic of Texas, to recognize a new design for the "National Flag" of Texas. Records available to the congress were fragmentary and little regard was given to the previous Zavala design adopted eight months earlier.
On March 3rd, 1837, the Republic of Texas, under this flag, was recognized by the government of the United States of America as a sovereign and independent nation. Later that year Texas applied for annexation and statehood, but the offer was declined by American President Martin Van Buren in the face of strong opposition led by John Quincy Adams. Massachusetts had sworn to withdraw from the Union if Texas was admitted, since a new southern state would upset the balance of slave and free states. Sam Houston, serving as the second president of the Republic of Texas, withdrew the request for annexation two months later and Texas remained a free and sovereign nation for nine more years.